Kid's Gathering Program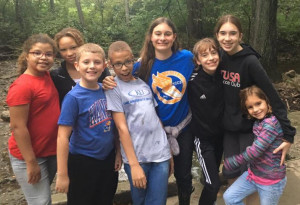 Our objective with the Kid's Gathering Program is to encourage our children to become mature followers of Jesus Christ. We can work to accomplish the goal through:
Compassion: We will provide opportunities for service in our community and within our congregation.
Community: We will offer activities to have fun with each other as well as unchurched friends and neighbors.
Connection: We will build relationships through fun, faith and fellowship that connect children and their families to Jesus Christ and His Family.
We encourage all school-aged children to attend, to invite friends, to serve, to strengthen their faith in God, to build strong friendships, and, of course, to have fun. Join us throughout the year. We have planned a full schedule for the upcoming school year. Download our flyer and save these dates and join us:
Friday, October 7, 2016, 4:30 – 6 pm
Serve a meal at the Johnson County Family Lodge
Sunday, October 9, 16 & 23, 2016, 2 – 4 pm
Art outreach program with Jean Singer at church
Saturday, October 15, 2016, 5-7 pm
Bonfire and scavenger hunt at Pastor Don's Barn in Wellsville, KS
Saturday, October 22, 2016 at 6 pm
Harvest Dinner at the church featuring a meal, children's talent show and silent auction with proceeds benefiting the Johnson County Family Lodge.
Sunday, November 6, 2016, noon – 2 pm
Generations Lunch for kids and seniors at church
Friday, December 2, 2016, 5-8 pm
Parents' Night Out with games and activities for kids at church
Thursday, December 29, 2016, 5-8 pm
New Year's celebration for kids at church
Saturday, January 28, 2017, 12:30 – 2:30 pm
Serve at Harvester's Community Food Network
3801 Topping Avenue in Kansas City, MO
Saturday, February 11, 2017, 6 pm
Annual Chili and Chocolate Contest at church
Sunday, February 12, 2017, noon – 3 pm
Kid's swimming party at the Olathe Community Center
1205 E. Kansas City Road in Olathe, KS
Download our flyer to invite your friends.
Sunday, March 3, 2017, noon – 2 pm
Generations Lunch for kids and seniors at church
Thursday, April 13, 2017
Maundy Thursday meal and drama performance at church

Sunday, April 16, 2017 at 9 am
Easter Sunday activities at church
Sunday, April 23, 2017 at noon
Flower planting and spring clean-up and followed by a pizza party for the kids at church
Sunday, May 14 at 9 am
Serve Mother's Day breakfast at church